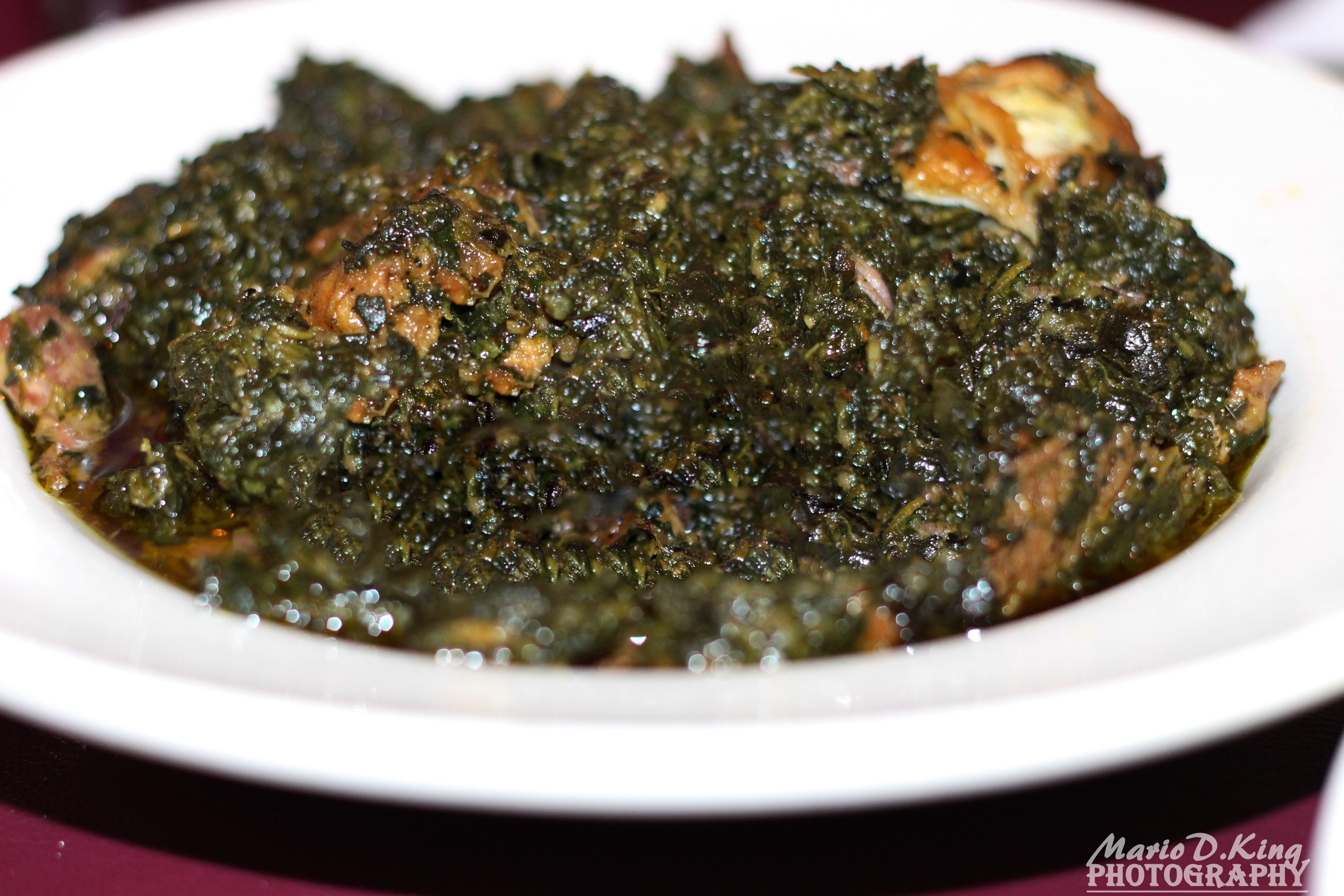 In last week's cultural cuisine expedition, my quest led me to experience a taste of North Africa in Charlotte's eclectic Plaza-Midwood neighborhood. This week my taste buds longed for an exquisite cuisine from the western part of the motherland. In my search I was able to find the crown jewel of West Africa on Charlotte's Northside.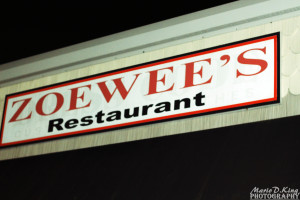 Zoewee's Restaurant is considered to be one of Charlotte's premiere spots to grub down on some fine West African cuisines. This small, yet comfortable, venue packs a major punch in flavor and pure nom nom sentiments. As soon as I walked in I was pleased to hear Bob Marley singing, "Don't worry about a thing…because every little thing is gonna be alright." That song does something to my soul every time I hear it. As I looked around the venue, I was greeted by warm and welcoming smiles as patrons laughed and talked in intimate settings. It all reminded me of my grandma's kitchen.
When I was seated, I looked over the menu to see how I would begin my new experience. I must admit, it was hard for me to choose between the abundance of quality dishes that was before me. I once again decided to go with a variety of dishes to capture the full Liberian experience.
To kick things off, I ordered an exotic looking drink: Jamaican Ginger Beer (I thought it was an alcoholic beverage)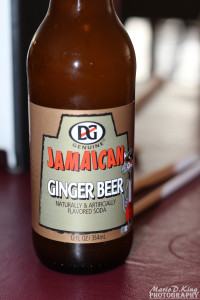 After taking my first sip, I immediately knew it was a taste I've yet to experience before. It was kind of creamy with a sweet and tangy kick to it. The ginger will leave a slight burning sensation at the back of your throat. Overall, the taste was unique, but it does pack a lot of calories at 225.
First Main Dish: Potato Greens (Vegetable Oil) with Rice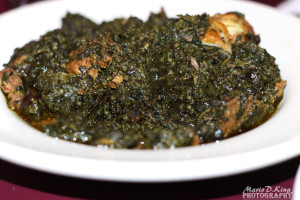 In Liberia potato greens are considered to be staples in the culture. For those that are not familiar (including myself), potato leaves are the leaves of the sweet potato plant. It's a green vegetable that contains: iron, calcium, and zinc. When I was coming up, I always thought greens were to be exclusively eaten with cornbread. They have always been the perfect complement to each other. I have a new perspective on things now. I'll admit I was a little skeptical to be eating greens with rice. But after my first taste, I realized that I couldn't have been more wrong. I will say this with all sincerity: Best—Greens—Ever! The smoked turkey was tender and seasoned to perfection. I don't think I can muster enough words to say how delicious this dish was.
Next on the list: Fried Croaker with plantains and seasoned rice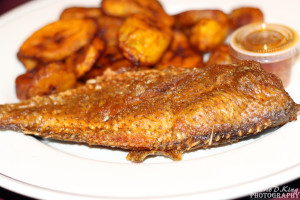 There was no way I could complete my Liberian experience without eating some fish, plantains, and rice. These are staples in the Liberian diet. The golden brown texture of the croaker matched the beautiful aroma it presented. This dish too was splendid. The plantains were fried to perfection. The blended flavors of the plantains and rice were the perfect marriage. I added a special seasoning that was brought out with the rice that added an extra kick to it. My taste buds danced to the beat of the reggae music flowing through the speakers.
Overall, the experience was relaxing and very feeling. It's great comfort food for you and the family to enjoy. The staff was excellent and friendly. I loved the family atmosphere. As I stated earlier, it's like sitting in your grandma's kitchen talking and laughing with all your cousins. This is a must stop for ALL Charlottean's.
In the words of my man Bob Marley: "This is my message to you…you…you."
Zoewee's Restaurant
4112 N Tryon St
Charlotte, NC 28206
(704) 559-9503